Welcome in Orsula apartments
Kućište - We reach Kućište on the peninsula Pelješac in the southeast port Dalmatian. It is 5 km from Orebić, 1 nautaica mile from Korčula, 2 km Viganj, 120km from Dubrovnik, by an asphalt rod along the seashore. We boning walk to west of Kučište near the Church of Holy Trinity, one of the most beautiful Baroque buildings in Dalmatian, dating from the second half the 18th century. West of the church a cart track leads to the local graveyard and the Medieval Gothic Chapel of St.Luke. A fifteen-minute walk along a path east of the graveyard brings us to the Renascence Capable of Our Lady of Annunciation.
Because of the windy conditions the location is ideal for windsurfing. During the summer the windsurfing world cap is held in this location (Viganj).
Contact info
Ivo Petković
Kućište 109
20267 Kućište Pelješac, Croatia

Mob: +385 989 591 255
Tel: +385 20 719 312
e-mail: ivopetko@inet.hr

Windsurfing on peninsula Peljesc
Sea on Pelješac (between the Peninsula and the island Korčule) have ideal conditions for summer sailing. When the weather is nice am blowing the Levant, and is unfailingly turns the maestral. The channel acts as a funnel; breeze at that point reaches maximum strength in the Adriatic. Because they know we find lovers sportive water.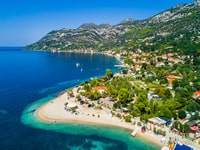 Peljesac
Pelješac with Istra, second largers peninsula on Adriatic Sea. Locate is south Dalmatia. Surface is 355 km2. Pelješac have Site: Ston, Brijesta, Trpanj, Viganj and Orebić, is very popular tourist destination through summertime.